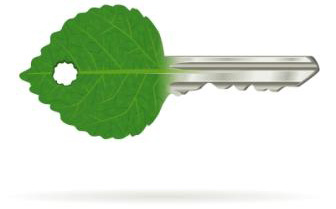 Climate change is one of the greatest issues of our age, and one subject sure to touch us more than any as we move forward. We can all play our part to reduce damaging greenhouse gases and pollutants by choosing better fuelling alternatives to both petrol and diesel.
Cleaner and greener
Although vehicles are much cleaner than in the past, they remain one of the most significant factors in air pollution. Vehicles running on LPG produce far fewer of the harmful emissions associated with traditional road fuels that contribute to environmental and health problems.
In 2004 the European Emissions Testing Programme confirmed the environmental benefits and credentials of LPG vehicles. Tests were carried out at four independent laboratories across Europe testing petrol, diesel & LPG vehicles. These tests confirmed that LPG vehicles produce:
Carbon Dioxide is harmless to human health but is a 'greenhouse gas' and is considered to play a major role in global warming. LPG creates 17% less CO2 than Petrol and 2% less CO2 than Diesel.
Oxides of nitrogen are commonly related to smog pollutant. Excessive amounts of oxides of nitrogen, particularly nitrogen dioxide (NO2) can cause death in plants and roots and damage agricultural crops.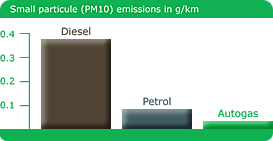 Small particle emissions are related to health effects including increased risk of heart and lung disease and asthma. LPG vehicles produce up to 120 times less small particle emissions than diesel vehicles.